The University of Texas Medical Branch, UTMB Health, is recognized as a 5-star academic health center for patient care, ranking among the top academic health centers nationally for quality, accountability and safety, according to the 2017 Vizient Quality and Accountability Study.
UTMB is also a winner of the 2017 Vizient Bernard A. Birnbaum, MD, Quality Leadership Award, which recognizes UTMB for demonstrating superior quality and safety performance as measured by the study, conducted annually since 2005. Twelve out of 107 academic health centers participating in the study received the prestigious award.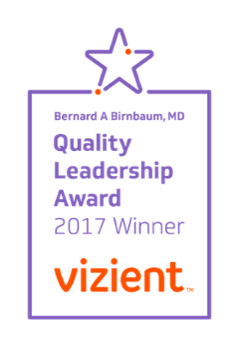 2017 Vizient Quality & Accountability Study Rankings
1. Mayo Clinic – Rochester
2. NYU Langone Health
3. Froedtert & the Medical College of Wisconsin – Froedtert Hospital
4. Rush University Medical Center
5. Penn State Health Milton S. Hershey Medical Center
6. University of Utah Health
7. UC Health University of Colorado Hospital
8. Lehigh Valley Health Network
9. University of Texas Medical Branch at Galveston
10. The University of Kansas Hospital
11. Nebraska Medicine
12. Oregon Health & Science University Hospital
---
Patients and families faced with making choices and decisions about health care often have many questions and concerns about the quality of care they will receive from a specific physician or at a particular hospital.
To help you feel confident and informed in choosing UTMB Health as your health care provider, we publicly share the following reports on our quality and safety performance, information on the many ways you can partner in your care, and our continual efforts to assure we are providing the very best patient care.
---
At UTMB Health, we are committed to:
Sharing the status of our quality rankings with you.
Tracking our performance is an important way we monitor how well we are delivering care and discovering areas for improvement. This continual process helps us to ensure we are doing the right thing for the right patient, at the right time, in the right way to achieve the best possible results.
Partnering with you and your family.
We will partner with you and your family in your care and provide you information on what to expect during your experience at UTMB Health.
Providing you with informative resources and support.
We will provide additional information to help you make informed decisions and participate in your care.
---

Access your UTMB patient information with MyChart.
MyChart gives you direct and confidential online access to portions of your electronic medical record (EMR) where you doctor stores your health information including lab results, appointment information, medications, immunizations, and more.